Bill Koch :: 2022 Cy Butler Award Recipient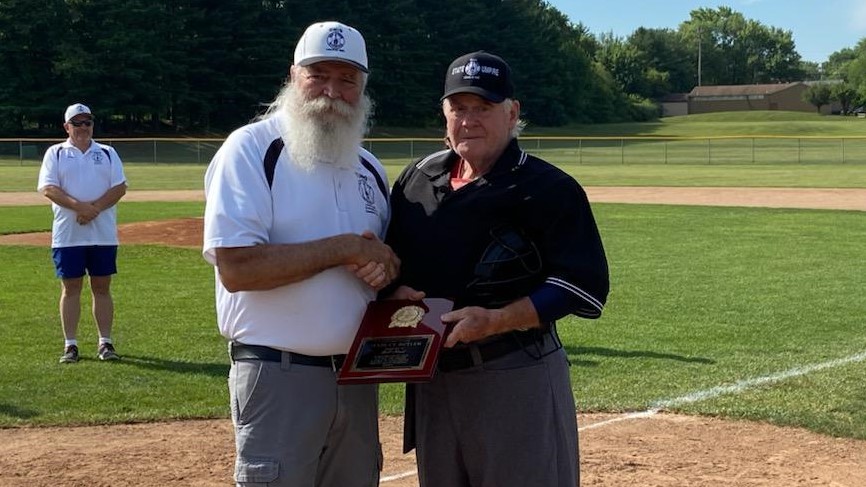 Bill Koch with President Lou Vasi
It is an honor to recognize the 2022 recipient of the Ohio Hot Stove Baseball League Cy
Butler Award. In his long association with the Hot Stove League, he has provided
invaluable services as an umpire, always setting a fine example for the other umpires,
and is well respected by coaches and players alike.

Being the humble guy that he is, nobody really knows when Mr. Koch began in Ohio Hot Stove, but we do know he has been an Ohio Hot Stove Umpire since his high school days. It is believed that 2022 is his 50th year as umpire in the Alliance Hot Stove Baseball league. He has umpired countless district, regional and state games for the Hot Stove Baseball tournament.

Mr. Koch is credited with beginning the High School Softball program at Marlington High School in 1986. Ten years later, Mr. Koch led the Lady Dukes softball team to the 1996 Division II State Softball Championship. This state championship was the 1st High School Softball championship in Stark County. Mr. Koch retired from coaching in 2012 with a career record of 370 wins and 189 losses.

Following his 40-year teaching career at Marlington Middle School – where he is still renowned for the "Ohio Man"-Bill retired in 2011. Bill is the current School Board President for the Alliance City School District. Mr. Koch is an outstanding role model for the young people whose lives he has touched as a teacher, school board member, coach, and umpire. In recognition of his long-time service to Hot Stove Baseball, we proudly honor him with the 2022 Cy Butler award.

Jason Nutter
Umpire in Chief
Alliance Hot Stove Charter

Barry Benedict :: 2022 Hall Of Fame Inductee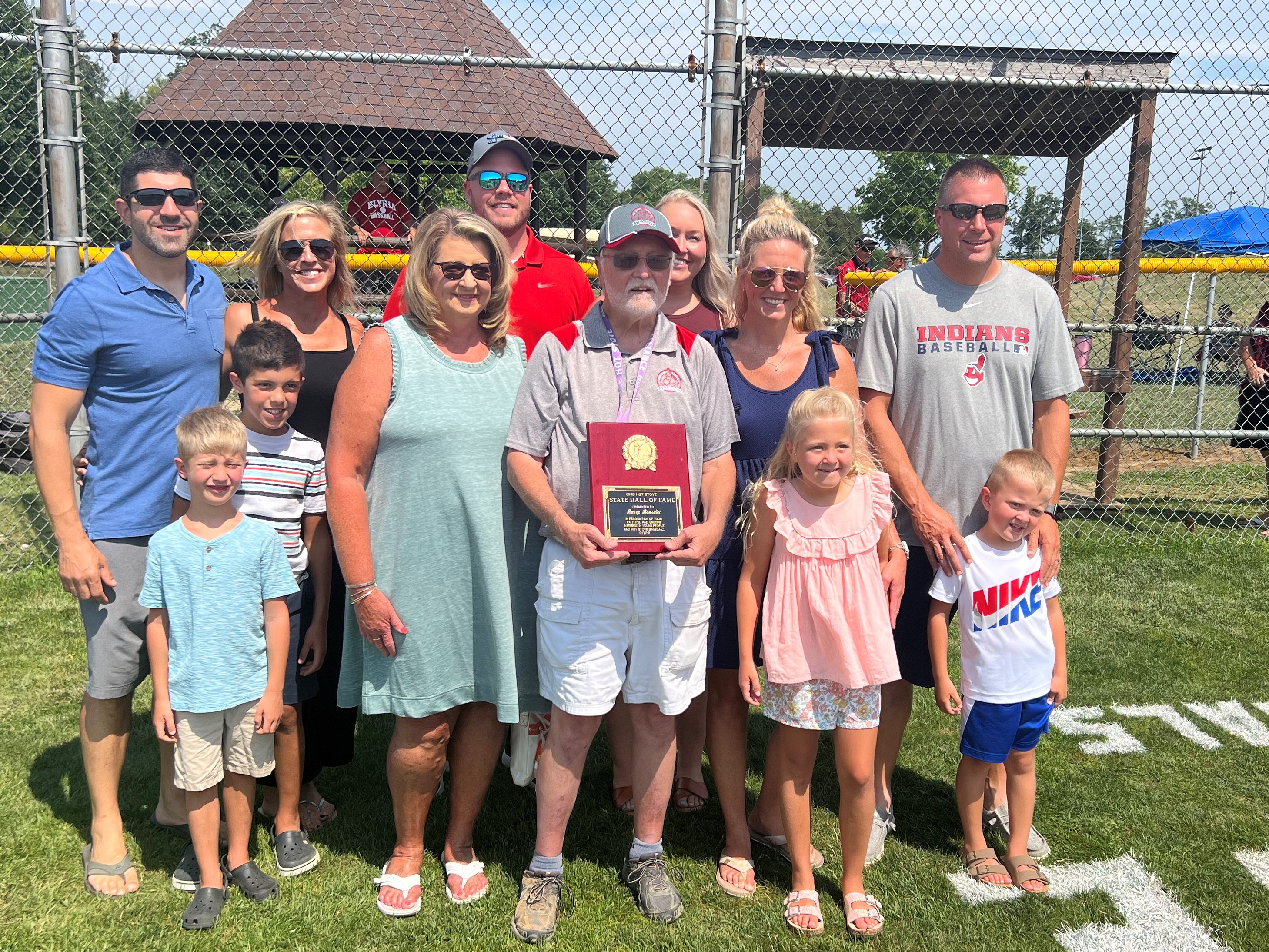 Barry Benedict and Family
Alliance Hot Stove Baseball proudly nominates Barry Benedict for induction into the Ohio Hot Stove Baseball Hall Of Fame.
Our recipient came to Alliance Hot Stove as a coach in 1997. He became a member of the Alliance board in 2003. He assumed the position of board secretary sometime later, a position he still holds today. He has been a league commissioner for each league at one time or another. Barry Benedict has given, not just to Alliance and Ohio Hot Stove Baseball but to the youth of the area and youth athletics. He has been a friend, mentor and coach to many players in the Alliance area. This year aside, Barry has always managed or coached a baseball team. If players want to play, Barry always seemed to put a team together.
When the Alliance charter and surrounding charters and communities joined to play as one league Barry was instrumental in putting it all together. This was before scheduling apps so everything was done with paper, pencils and a lot of phone calls and frustration. Barry has been the right hand man for Alliance Hot Stove Baseball for years.
A short list of his contributions over the years:
Board Secretary, league commissioner, arrange team sponsors, player sign ups and uniforms, Days in the park, fundraising chairman, tag day, fundraising raffle. Barry has been an assistant tournament director and has assigned tournament score keepers and field directors for years.
Barry Benedict has volunteered his service to the Alliance and Ohio Hot Stove Baseball community for over twenty five years and is the embodiment of a Hall of Famer.
We thank Barry for his time and dedication to the Alliance/ Marlington community and Alliance Hot Stove Baseball.

Jerry Clapper :: 2022 Hall Of Fame Inductee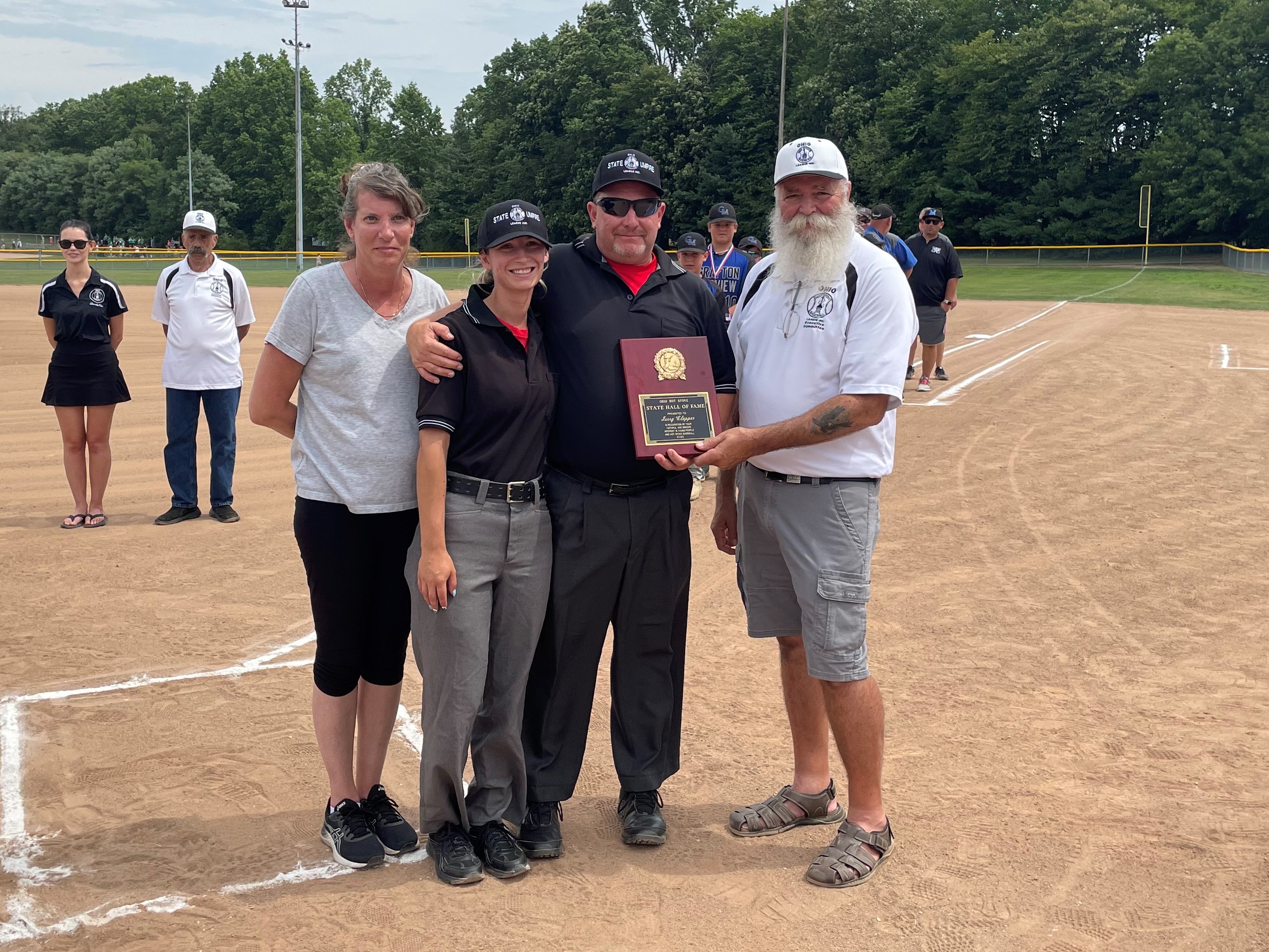 Jerry Clapper with Wife Renee, Daughter Audra and President Lou Vasi
You always know if it's a strike. You always know the count… even if you are 3 fields away. You will see him on the softball and baseball diamonds in the spring working high school games. You will see him also in the summer umpiring Hot Stove games. You will see him at Hot Stove meetings, games and all that goes with them. Jerry Clapper has been an ever-present force around the diamonds for nearly two decades. Once upon a time he was challenged by Hall of Famer Gene Farr, to start umpiring. He took the sage advice and began doing so. He then had a daughter, Audra, and the two began a journey that still lasts to this day. Jerry became a coach, mentor, shuttle driver, umpire but always wore his proudest title, dad.
Jerry was pressed into duty with the Lorain County Hot Stove board by becoming the Class H and newly formed Class HH Vice President. He has spent countless hours ensuring that his teams had "the perfect schedule," got their games played as well as handling issues in a timely and fair manner. He consistently looks for ways to improve and grow the Hot Stove program and is always there to lend an ear or give good advice.
When Lorain County formed Hot Stove Softball, Jerry was at the forefront of bringing and keeping up to a product worthy of the Hot Stove brand. He recently added the role of Head Umpire for Softball, where he added the responsibilities of training new umpires, scheduling tournaments and all other tasks associated with the role, while still remaining as the Class HH and H Vice President.
For Jerry, Hot Stove is a family affair. His now adult daughter, Audra, serves on the same Lorain County board as State Commissioner. She can also be seen umpiring alongside her dad (or running to Taco Bell at State for him.) Jerry's wife, Renee, can be found by his side at nearly every game, or falling into a pool in Alliance. His mom, Donna, has been a tournament score keeper for years. His dad, Jerry Sr., also makes the trip to Alliance each year to show Jerry how to golf, although that part hasn't been too successful yet.
So it is with great pride that Lorain County Hot Stove nominates Jerry Clapper Jr. to be recognized among the other Hot Stove greats and be rightfully inducted into the Ohio Hot Stove Hall of Fame.

Sincerely,
Lorain County Hot Stove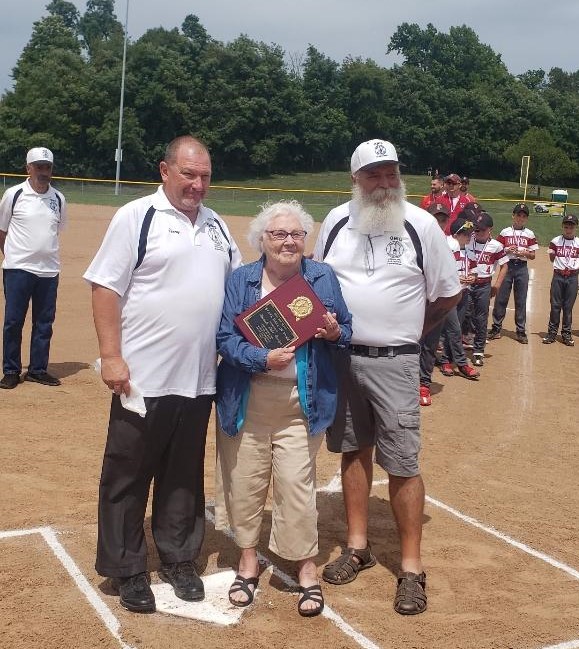 Mrs. Ensign with the Executive Committee
Donald "Jake" Ensign was synonymous with Spencer Hot Stove for nearly 4 decades. He held
many different positions of leadership during these years and his selfless service to the young
people of the Spencer/Black River area went above and beyond. There are many anecdotes
in the Black River community from players that are grateful to Mr. Ensign for coaching,
teaching and instilling a love of baseball. There are also stories from families that may not
have been in a position to pay for sign-up fees, but Jake and other Spencer Hot Stove leaders
found a way to provide scholarships. They didn't want any young athletes to be denied a
roster spot because their family was in a tough spot financially.
There is a quote, that societies are made great when old men plant trees for the shade that
they shall never enjoy. That isn't to say that Jake didn't see the fruits of his labor. From
1967-2003, he RARELY, if ever, missed a single game in which his children, Kathy, Steve,
Donna, Barb, Larry and grandchildren, Steve Jr., Brian, Adam, and Jake played, as either a
coach or a spectator. However, it is notable and remarkable that Jake's efforts to not only
spearhead the successful campaign to establish the Spencer girl's softball division of Hot
Stove, but also serve an instrumental position in the construction and development of JB
Firestone Park have provided countless young athletes opportunities that continue to this
day. Our community is made greater by Jake's decades of volunteerism, leadership and
vision.
Jake's legacy continues with the community assets and organization that he helped build. It
also continues with his family. Jake has 3 great-grand-children playing Farm ball for Black
River Youth Sports this year and 2 grandsons that coach.
It is our honor as the board of Black River Youth Sports (fka Spencer Hot Stove) to host the
Hot Stove Softball Tournaments this year in the park and for the sport that Jake Ensign
helped establish. It is also our honor to nominate Donald "Jake" Ensign for induction into the
Ohio Hot Stove Hall of Fame. We submit this humble request for your consideration.
If anyone has ever deserved to be recognized for their service, it is him. His resume as
provided by his family, is as follows:
• 1967-1987 – Head coach and assistant coach for various teams at various levels
• 1967-1984 – Personnel Director for Spencer Hot Stove
• 1967-1990 – Lorain County Hot Stove Umpire (umpired at State Tournament in
Alliance)
• 1975 – Spearheaded the successful campaign to establish the Spencer Girls' Softball
division of Spencer Hot Stove
• 1978-1979 – Was instrumental in the construction and development of JB Firestone
Park (where games are still being played)
• 1994-2000 – Worked for Spencer township mowing and maintaining ball fields
*Some dates were estimated based on best recollection

Sincerely,
Black River Youth Sports